Danish-Anglo-Norwegian trio Phronesis were on the top of their popularity in London (where they are based) few years ago. Obviously influenced by Swedes E.S.T. , Phronesis played modern European chamber jazz with style which impressed BBC,critics and London public.
Trio's newest album demonstrates some change of direction from polished sound to groovy, so I caught them playing life on Vilnius downtown as part of annual Vilnius Mama Jazz Festival.
Danish bassist
Jasper Høiby
is band's founder and show leader. Tall blond guy with vertical bass on scene reminds Sting's pre-Police era (when he still was Gordon Sumner and played acoustic bass around London). And he looks like a real giant centered between two other band's members - far not so tall Norwegian drummer Anton Eger and even smaller English pianist Ivo Neame. Trio looks very Northern without speaking a lot, just doing their job on scene at their best.
First part of the gig contained songs from newest album - lot of rhythm and groove, less in melodies. Phronesis are really better playing live than on recordings, they are more lively there and far not so polished. Second part of concert they played their earlier music - well known tuneful chamber songs with melancholic tunes.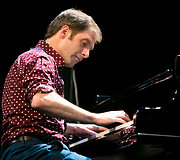 It was a nice evening of quite comfortable music played safely - true soundtrack of yesterday's Europe. New Millennium still bring to Europeans (probably) the last decade of peaceful and easy life - Phronesis music was a accurate echo of London's slightly bored middle class youth,self-locked in comfortable and safe temple of glass.
Phronesis new music loses that idyll very fast, it is more nervous now, not so polished and - obviously searching on new ground under legs. Trio's final composition (after public's outstanding applause) sounded way different from everything they played before this night. Fast,free and aggressive duel between pianist and thunder-like rockish drummer, only minimally controlled by bassist, reminded more Cecil Taylor's music than refined European chamber jazz piano trio from early 00's. It looks that musicians (as almost all of us) feel that new times are coming and are ready to react properly. Let wish them a good luck.