I have never been a big fan of Oregon music. Probably I just was born too late - my first jazz vinyl was one of post-RTF Chick Corea's. The first live jazz gig I saw was ex-Ganelin trio reeds player Vladimir Chekasin's solo concert - he played free improvs using two saxophones simultaneously and improvised against sound generator and drum machine! I was a University undergraduate then and still remember that event in small details after three and half decade. Americans Oregon I found out much later (as "archival" jazz from early ECM reissues) and they stayed for me nice simple early world fusion, comfortable and sterile music ECM label was known by.
Yesterday scene veterans Oregon played (for a first time ever!) in my hometown and I just decided to give them a chance (as if they really needed). The hall of city's Drama Theater where the band had a gig was overcrowded. Lot of well-known faces - from seasoned social-democrat party one of the leaders (who unsuccessfully tried to become a party Leader few weeks ago) to red-hair biggest country's news portal fashion and style column editor. My seat's neighbors were mid-aged pair of Russian tourists ( female wore massive fake golden bracelet with watch and lot of shiny crystals).
But - we all came to hear the music. Today's Oregon contain just two original members - guitarist/pianist Ralph Towner and reeds player Paul McCandles. Two others are newcomers - Italian double bassist Paolino Dalla Porta and Chicagoan drummer Mark Walker. From the very first concert's seconds band switched the time machine button and we all moved back to 70s America.
Nothing was about virtuosity here - Oregon played clear vibrato-less songs smartly combining hard bop standards, their trade-mark world fusion pieces and more energetic fusion (Towner,besides of his acoustic guitar, played piano,electric keys and oddly looking instrument they called "frame guitar" - kind of electric guitar and keys hybrid with sound, similar to some Allan Holdsworth recordings where he used Synthaxe)
All concert was like a one mystical tour to the past - times, when "America was great" . I can hardly remember when I was listening such a positive energy radiating music - nothing sounded dated or sentimental at all. Oregon played what they do for almost half of a century, and it was great!
Band played a piece of upcoming new album they are planning to release at very nearest time - Towner used computer, pre-recorded samples, and all composition was radically different from band's classics - complex,free,angular and ... nervous. Very modern. I believe their new album would be really in a modern stream - but still their classics are best we all wanted from them.
Excellent sound, very professional musicianship - but first of all fantastic spirit of something that we already lost, sort of better life that already passed and noticed only now. As I already mentioned above, it wasn't a night of nostalgia, no way - there were lot of young people, many of them never heard Oregon before and "spirit of 70s" means close to nothing for them. But almost all of them were excited by simplicity, melodies and strong positive aura of Oregon's music, qualities one can hardly find in modern music of any genre.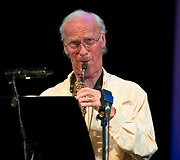 I still don't think I will start collecting Oregon recordings, but their live gig impressed me a lot. In modern world of Brexit, Middle East immigrants drama and Russians, bombing hospitals and schools in Syria again and again, music is complex,nervous,anti-human and often ugly.
Oregon's music mirrored the different world - not that promised one from future that we all know will never come, but another - we all already had it but somehow it is already lost. And I don't think that guy promising "to make America great again" wants or can to return it to us. Probably Oregon with their music can revitalize at least a small particle of it - inside of everyone of us.


Edited by snobb - 20 Nov 2016 at 3:03am