Last night first snow covered Vilnius streets - for the first time this year. It melted still till midday, but it became obvious that winter is already knocking on the door. Same day's night New Orlean's Christian Scott Atunde Adjuah septet played the gig in city's Drama Theater, right on main street, and it looked for a moment it helped to slow down upcoming winter for a while.

Today Vilnius' listener is spoiled by good jazz. Still three decades ago in then occupied by Russians Lithuanian capitol domestic jazz had underground status, and foreign artists were unheard-of miracle. Rare exceptions generally just confirmed the main rule (In 1984 American reedist Paul Horn released live album, recorded in Vilnius Catholic Cathedral,which wasn't destroyed by occupants only because of smartness of domestic authorities, who swapped it to Art Gallery; many other churches were used as warehouses for cement or just destroyed. This Paul Horn's live album has been released in US and Canada same year under the title "Inside Russia". I would like to believe Horn didn't know that Vilnius isn't Russia and that his (US) government never recognized Lithuania's occupation by Russians).

Modern Vilnius great jazz scene with regular gigs of world's leading musicians. Earlier this week there was a nice night when David Kikoski trio played with local saxophonist Kestutis Vaiginis and State Ballet Theater's prima dancing. British Soweto Kinch played at Friday, young Norwegian sax star Marius Neset - at Saturday. One of this year London's Jazz Fest star Sons of Kemet played earlier today.

Jazz fans knows modern music, and they are demanding. It wasn't easy to Christian Scott band to deserve their attention, but he successfully did it this night.

Call this "new fusion" or "jazz for rock generation" all the same - Scott septet plays music which is obviously rooted in jazz and partially rock tradition, but is new. It often sounds like he started right in early 70s - from Miles fusion and creative rock of the time, but jumping right to nowadays.

His drummer is hammer-heavy rock-man in jazz, his guitarist obviously grew-up listening to Jimmy Hendrix (and not only because he's wearing something what Hendrix would be proud to wear). Christian double bassist is a true jazz man, and his sax player is the one any great jazz band would be happy to have on board. Flutist Elena Pinderhughes plays like she is in a member of Chick Corea's Return To Forever circa 1972 and her life depends on it.
Christian Scott's Septet play in Vilnius at the end of their three-months European tour but they doesn't sound tired - better to say they count their energetic resources and cleverly changing explosive rock-hard numbers with ballads or even jazz standards on scene. Atunde Adjuah himself is obviously more band leader and composer than soloist even if he plays some trumpet solos. His instrument is his band and he uses them well. Atunde is good showman too - he introduces the band, he communicates with public and in the twinkling of an eye reacts on baby's wine in a public.
Atunde tells a story about his incident with police in New Orleans and band plays "Ku Klux Police Department" - the song, dedicated to this incident and full of police sirens, protest energy and some reconciliation. Excellent pianist Lawrence Fields (playing acoustic and electric piano during the gig) shows how excellent player he is soloing on his own,very jazzy song.
Still. Christian Scott septet power is not in their virtuosity even all musicians are really great. Their appeal,which really conquers public in full Drama Theater hall is that they play as fresh as there was nothing before them. No decades of jazz and fusion history,no thousand of great and not so great musicians who developed,overdeveloped and simply copied all that legacy - they play as if November 2015 came right after October 1969 and they are just happy kids opening for themselves and curiously and dedicated listeners the world of new music.
It's a rare feeling and it looks spoiled Vilnius listeners got the message - the gig finished in standing ovations.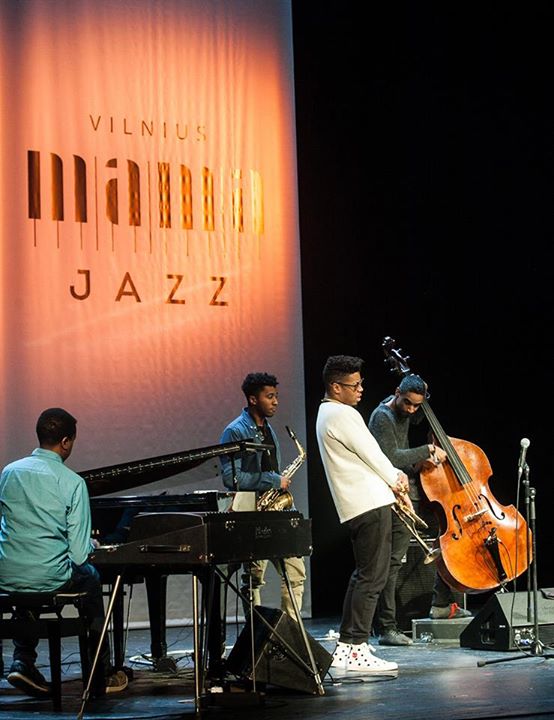 Edited by snobb - 24 Nov 2015 at 7:43am