Just returned back home from nice show - US reedist Sabir Mateen and Lithuanian guitarist Juozas Milasius played as part of Vilnius Jazz Festival 2014 this night.
Sabir Mateen (63) is Philadelphia-born reeds player who started his career in RnB bands but later switched to free jazz and played with Horace Tapscott, Sunny Murray,Cecil Taylor,William Parker,Alan Silva,Mathew Shipp and Jemeel Moondoc among many others. Never a star as leader, he has strong collaborator reputation.
Juozas Milasius (46) is almost unknown outside of homeland, but in domestic scene everyone knows him well. Started playing guitar in mid'80s, Juozas became a young crowd idol very soon combining free improvs and loud and noisy shredding with happening elements and playing everywhere from rock concerts to free open-air shows. Later he started using electronic,computers,sound effects, founded few bands and played lot of solo guitar concerts.
Last time I saw Juozas playing few years ago on same scene as tonight, he performed solo - tall guy wearing skirt with electric guitar, amplifier and some sound devices,playing soundscapes spiced with noisy explosions. It was quite exotic but far not for everyone taste. And I never saw Sabir Mateen playing live before.
Today's show was kind of lottery for me - I didn't know what to expect, and it looked that chance to see good or bad show was 50/50. Now, when the show is finished but impressions are very fresh, I feel like it was a right choice to spend my night.
It was far not all that obvious triumph though - this concert looked more like meeting of two worlds. Sabir played sax,flute and clarinet, even sung kind of gospel a bit. He showed high professionalism in playing,but almost all night was framed in what could be tagged as "black free jazz tradition". When listening I just thought that his this night playing is "conservative" - doesn't matter how unusual it sounds speaking about free jazz. Sabir knows his music well and he plays perfectly what he (and many free jazzers of previous generations) play from 60s - and this music now sounds almost as classics, at least for those familiar with free jazz legacy. Juozas has very different roots - not originally jazz musician, today he played much more non-conformist and risky music,starting from free-shredding and finishing with pedals,modulators and other devices' noises.
Strangest thing was that those two generally even didn't show what is usually called "interplay". But at the same time music somehow doesn't sound chaotic. Sabir,originally more collaborator than leader,stayed a bit in the shade,but his strong jazz rooted playing made excellent base for Juozas acrobatics. Juozas,natural leader (today - wearing something reminding Superman coat) demonstrated his regular show playing (fortunately with big doze of humor) narcissistic rock star,comics Superman and infantile big child all at the same time. He didn't care much about tunes and hordes, even not always - about the rhythm, his interest was SOUND. That scratchy screaming guitar sound, loud almost hysterical, which starts fast and finishes just cut even faster. He opened the show playing the shed at maximum loudness, just one horde,that switched to hysterical fingers trip around the strings, here and back,here and back. Sabir played what he know the best,without big relation to Juozas acrobatic,but music surprisingly sounded well.
Somewhere on the midway Juozas just moved to his pedals and other small devices playing (producing?) some cosmic -psychedelic sounds, then even played few tunes (here Sabir felt much better participating). Still Juozas returned again and again to his comfortable zone - production of strange and loud scratchy sounds,pushing Sabir in the shade again.
Thinking about what I heard and saw there today (and probably even more from what I wrote trying to describe what happened there) it probably looks like it was chaotic even crazy and most probably far not great concert. This opinion would be wrong - with big doze of humor and TRUE unpredictability of every next move, it was strange but great concert, especially by its atmosphere.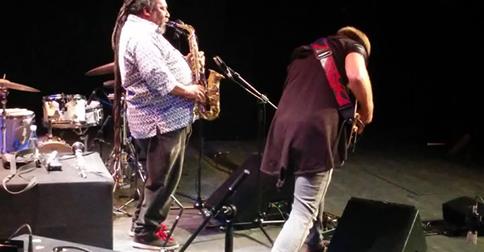 The second part of this night took young and quite fashionable(they debuted on German major ACT label just few month ago and they really enjoy traveling around European jazz scenes) French Emile Parisien Quartet. Guys played professional mixing everything from trad jazz to fusion and free improvisation to one well-made and quite accessible mix. Fantastic drummer (probably a bit too heavyweight for current band's format), nice clarinetist-leader and acoustic bassist (piano player sounded a bit out of their game). But somewhere in the middle of their playing I just found myself thinking that all they have to say is already said.