Late Soft Machine musician Hugh Hopper teamed up with then bandmates on Jazzloops and The Stolen Hour – due for re-release in March 2023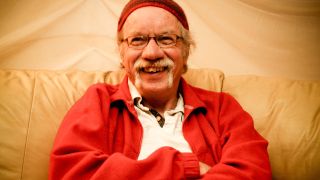 (Image credit: Simone Cecchetti/Corbis via Getty Images)
Two of Hugh Hopper's experimental albums from the early 00s are to be released on one remastered double CD by Explore Rights Management, via Cherry Red, on March 3.
Originally issued in 2003 and 2004 respectively, Jazzloops and The Stolen Hour saw the ex-Soft Machine musician team up with some of his former bandmates for a series of explosive jams that pushed at the boundaries of progressive jazz fusion.
Jazzloops was a collage of live and studio performances that brought Hopper's eclectic sound to a modern jazz audience. Its follow-up, The Stolen Hour was further explored via a comic, which is included in the liner notes of this special two-disc edition. Both included contributions from Robert Wyatt, Elton Dean, jazz drummer John Marshall, Gong alumni Didier Malherbe, and French guitarist Patrice Meyer.
Hopper was a key member of the Canterbury scene, initially helping to found The Wilde Flowers, which then blossomed into Soft Machine. He co-wrote the latter's self-titled debut – released in 1968 – but only played bass on one track, however, he was in the official line-up for Volume Two and continued with them until 1973's Six. He released his solo debut, 1984, in the same year and later became part of the off-shoots Soft Works and Soft Machine Legacy.
The two-disc Jazzloops / The Stolen Hour follows on from 2014's posthumous live recordings campaign, the proceeds of which went to Hopper's family. The musician and composer died in June 2009, a year after being diagnosed with leukaemia.
Jazzloops / The Stolen Hour is now available to pre-order.


Edited by snobb - 04 Jan 2023 at 6:25am