London's burgeoning new breed of genre-blind, rhythmically direct jazz musicians has been attracting youthful, multi-cultural audiences not seen in the UK for a generation, pioneering a radical and overdue shift in perception.
With the US and Europe onside, Britain's broadsheets joining in the acclaim, a Shabaka Hutchings-produced album, We Out Here, compiling the scene's key voices, and many of those musicians returning this month to the Love Supreme Jazz Festival, Nick Hasted sits down in London with Moses Boyd, Nubya Garcia, Theon Cross and Joe Armon-Jones to discover where the scene began, what it stands for and where it's heading a year after Jazzwise first covered it
"To me it's a very mystical time," Moses Boyd says of the current decade's dawn. "Because everything was perfect. It had all the ingredients ready to make it."
The early 2010s was when Boyd, Nubya Garcia, Theon and Nathaniel Cross and Joe Armon-Jones all started college in London, and spent equal time in a South London clubland suddenly open to jazz's possibilities. This was the milieu where this new generation of now 25- and 26-year-olds brewed the sounds which are breaking jazz towards the UK mainstream for the first time since the early 1990s.
Shabaka Hutchings is, at 33, the scene's elder and international figurehead, the first name on the lips of the European and US jazz industry as his relentlessly burning energy fuels Shabaka and the Ancestors, The Comet Is Coming and Sons of Kemet. Hutchings has also just recorded himself and the generation rising up alongside him on an LP snapshot of the scene, We Out Here. Though its jams aren't anyone's best work, it's an enjoyable overview of the movement's sonic reach, from Maisha's softly ecstatic spiritual jazz to Boyd's tough dancefloor beats and icy synths. Musicians morph between tracks like individual cells in a single, growing organism. Hutchings' recent signing to Universal, Ashley Henry's to Sony, and Nérija becoming the Arctic Monkeys' labelmates on rock indie Domino shows how an industry which had written off jazz smells commercial blood in the water.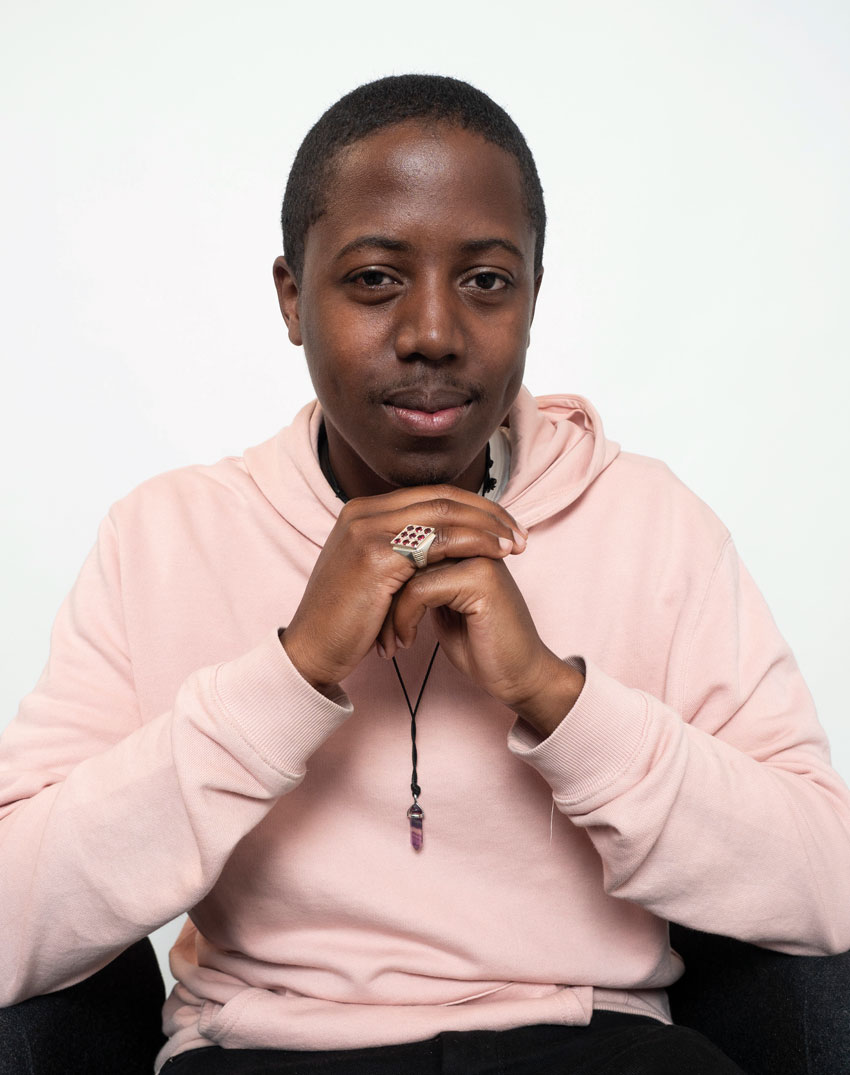 Moses Boyd (photo: Tim Dickeson)
Boyd, Maisha/Nérija and solo saxophonist Nubya Garcia, Sons of Kemet tuba-player Theon Cross and Ezra Collective keyboardist Joe Armon-Jones are gathered in the exceedingly mellow Stoke Newington HQ of Gilles Peterson's Brownswood Records, which released We Out Here. Jazzwise, of course, covered them all early, but broadsheet features announcing jazz's reborn cool are now reaching epidemic proportions. One has just hit the stands as a Sunday supplement cover story when we meet.
"Yes, Mumsy bought The Observer on Sunday," Garcia laughs. "How many do you need?"
"I'm glad we were doing it before the interest or the hype, whatever you want to call it," says Boyd, of this rapidly rising profile. "Because it gave us time to work on it away from any influence. And now it's come at the right time." Boyd began playing 10 years ago, aged 16, when jazz was a dirty word in the mainstream, not least among his Catford peers. Though jazz is music of black origin, UK jazz gigs showed it had lost its black audience. Choosing to become a jazz drummer then must have been an isolating choice. "Not in my head," he laughs. "But in everyone else's head, I think it was!"
"Help came from certain nights that made an effort to bring in an audience who wouldn't normally attend jazz," Cross recalls. "So the music we make is important, but as important is who promoted Jazz Re:freshed, and Steez. They marketed our creative projects to more than people of a certain age and background."
Garcia remembers Steez, a club night which moved across several small South London venues in the 2010s, as an especially crucial catalyst. "It started with us bringing our friends there, producers and DJs and creatives that we grew up with at college. So that opened up the varied people in the room. And then those people had a sick time, and word of mouth is really powerful. Even with current nights now, like Steam Down in Deptford, it's a small venue and word of mouth. Not that much online activity. We started getting write-ups in all these magazines, but people are talking about it because it's enjoyable, it's fun. And all of those nights are cheap, or free. It makes it inviting."
"There were maybe six live bands on the line-up, and poetry, and DJs," Armon-Jones says, conjuring the scene at Steez. "The place is packed from 6pm, closes at 3am, and the last three hours would just be some jam session. And that was a really special thing. Shout to [promoter] Luke Newman, because he really pulled it off, man. There was a period of time when all of these bands who are playing now could be seen in a little pub in Lewisham like the Fox and Firkin for five or even three pounds all night. And it built up trust that if you go to Steez, or you go to Jazz Re:freshed, you're going to see that kind of energy, whoever's playing."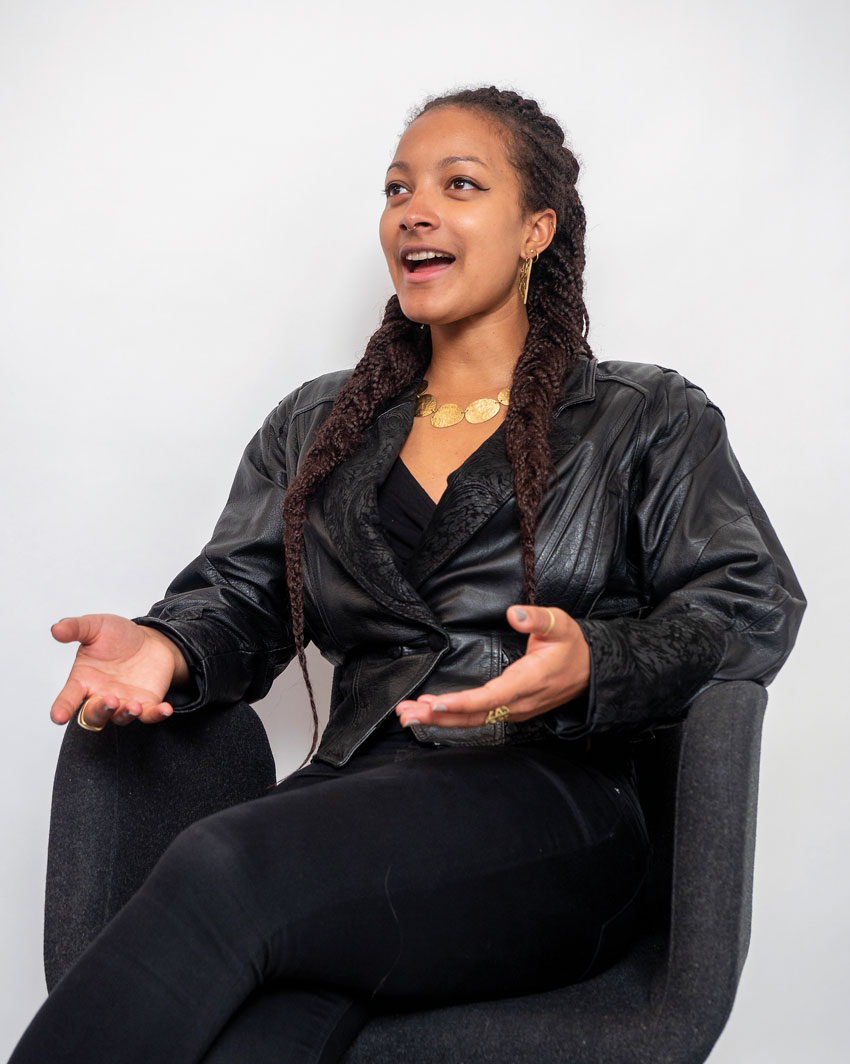 Nubya Garcia (photo: Tim Dickeson)
This new crowd arrived with no preconceptions. "I think it's beautiful that, specifically with Steez, it wasn't like they were expecting anything from a jazz band," Garcia explains. "They were gassed to have a good time. They went to DJ nights more than live gigs, and so to have the mixture of both of those things in one invited a new audience that hadn't experienced what we were doing before."
These nights were the underground basis for something broader than the records and gigs which are now rising overground. As with previous club-based scenes, from bebop at Minton's in 1940s Harlem to London's grime scene now, all agree that their music is one facet of a way of life. "Outside of the music and the artists," Boyd observes, "what we do has created an infrastructure and ecosystem: presenters, nights, events. So it's growing in that way as well. There's Touching Bass, who put on a lot of nights and talks, or someone like Tej Adeleye, a great writer who did the liner notes for We Out Here." Indeed, Adeleye's socially charged, stylistically energised polemic summarises the scene better than the record. Garcia agrees with Boyd. "It's lots of little pockets of the same thing, where we all have something to say about what we're doing and the world we're living in, and it's coming out in magazines, nights, discussions, radio and dances. Everything is providing places for people to go to be together, and express whatever they want to. And it's not contained to London, it can't be. It's spreading out."
"Community is a better word than scene, man," Armon-Jones says of what they've helped build. "People who are not connected by friendship groups, but are making music that carries the same vibes or could be put on at the same events mustn't feel like they're excluded. I want to stress the importance that it's not a ship that has sailed. It's growing, and young and old people can join."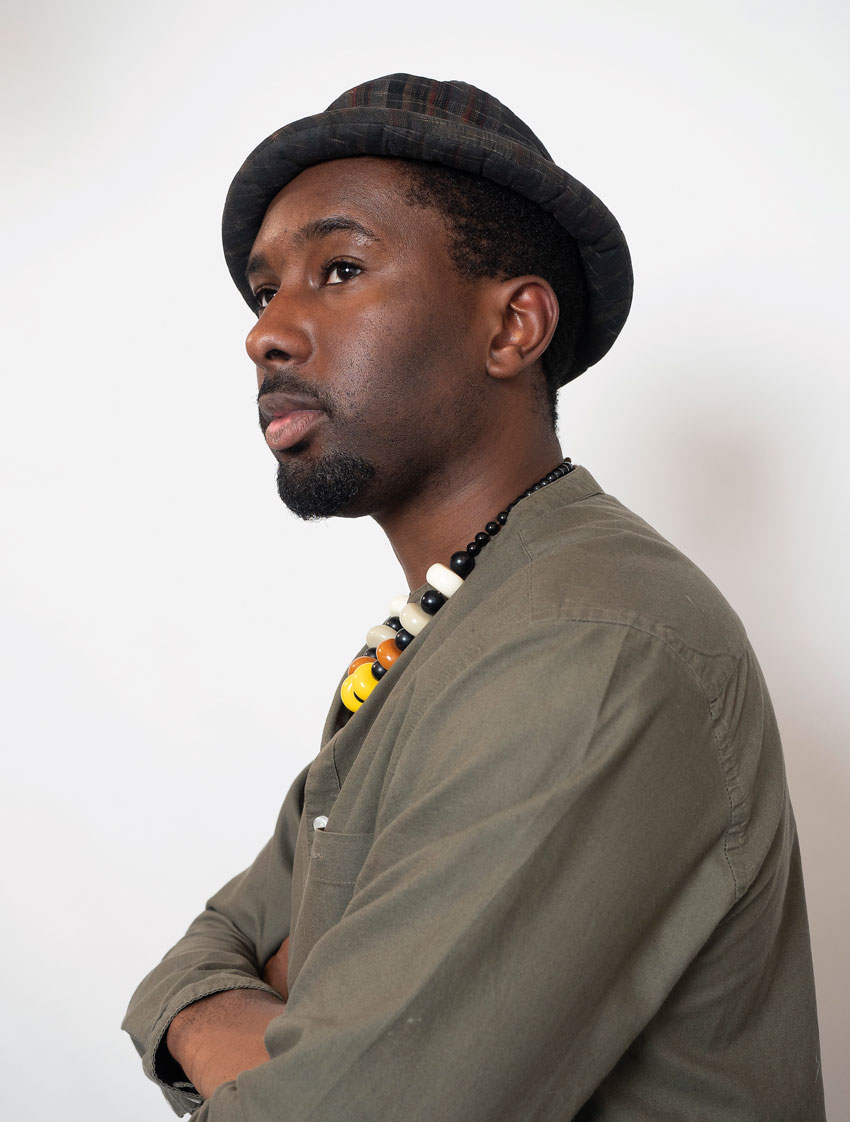 Theon Cross (photo: Tim Dickeson)
Intimations in the Observer piece and elsewhere that this is music made by street-level radicals, tearing up the rulebook of jazz's academic establishment, is, though, overly romantic. Everyone in this room met while studying jazz. So was this all to the good? "How do you mean?" Boyd laughs. "Did we pass? Yeah, we all finished!" He remembers the importance of a critical mass of this future community arriving to study at the same time. "There was stuff we needed from the university – resources, information, practice rooms – and we all played out at a lot of things outside of that. Trinity Laban is down the road from Goldsmiths and Camberwell College of Arts, and there were nights happening between them, along down the strip, whether it was Good Evening or Steez."
Both Gary Crosby's Tomorrow's Warriors, in reclaiming jazz for often young black and female musicians (not least Nérija) from its current base in the South Bank Centre, and Jazz Re:freshed's Notting Hill nights and educative reach, were vital bridges linking to traditional study. "Tomorrow's Warriors and college was our boot camp," says Cross. "It grounded our learning and understanding." Boyd started at Trinity in 2010, and Garcia finished in 2017: the span when seeds were sown.
Playing off the grid of the traditional jazz circuit in London clubland meanwhile allowed two-way traffic with grime, hip hop and R&B. Just as US hip hop acts such as A Tribe Called Quest looked to past jazz styles for spiritual roots and balm in the 1990s, when the UK's radical, frenetic jungle dance music was also taken to a higher plane by the jazz-minded 4 Hero, something similar is happening now. The influence of grime and hip hop on the new jazz community's rhythms is often subtle, if present at all. Radical leaps forward aren't being made by specific records, so much as in the breaking of barriers between jazz and the urban musical present. "I listened to grime and hip hop before I listened to jazz," says Boyd. "And now with Spotify and the way people consume music, the world has gotten a lot smaller. The hip hop and grime scenes when I was growing up were shut. Now if you listen to Little Simz's last record, she's a hip hop, grime-influenced rapper, and it's got a lot of jazz musicians on it." That 2017 Little Simz LP, Stillness In Wonderland, prominently employs Nérija trumpeter Sheila Maurice-Grey, and is full of the sort of mellow spirituality jazz so often gives black musicians outside it, while Ezra Collective were on Simz' last bill at London's Roundhouse. "A lot of MCs and rappers on this side and in the States are starting to understand the importance of live bands," Armon-Jones says of this cross-pollination, "and that having skilled instrumentalists takes their music to the next level. We're at a stage where musicians and rappers are learning from each other."
The importance of parallel developments in the US, meanwhile, can't be ignored. Robert Glasper's impromptu late-night set at London's Village Underground venue in 2012 was one early sign of jazz's return to favour with a young black audience. 2015's To Pimp a Butterfly then crowned Kendrick Lamar as hip hop's king with its intricate poetic broadside at American racial iniquity, and employed Glasper, Thundercat and Kamasi Washington to do so. There's agreement in the room that this made it the most important album for jazz in recent times. "That was when the cogs started to turn," says Armon-Jones. "In America and then straight away in England, people were suddenly booking a sax player for their album, and suddenly tracks are two beats rather than one beat for the whole thing. And people started to hire live bands right around then."
"I'd been into the LA scene before that," Boyd says, "like Thundercat and the Bruner brothers. I'm equally aware of what's been going on in New York for the last 30 years, so the idea of jazz and hip hop wasn't new to me, because I've listened to M-Base. But this was the king of hip hop bringing hip hop and jazz back together. And then Kamasi's campaign hit at the perfect time. We were on the same festivals, and there's been a cool little discourse. I wouldn't say it influenced us, because all of us were doing music that hasn't changed much since To Pimp a Butterfly. But it definitely had an effect on the whole infrastructure."
Boyd's 2016 debut as Binker & Moses with saxophonist Binker Golding, Dem Ones, is a prime artefact of the new London scene. The music convincingly relocates Coltrane and Elvin Jones' symbiosis to South London, not least in its title's slang, the musicians' clothes, and the tendril of smoke rising from the baseball-capped Golding's mouth on the moodily muted sleeve. Recent Jazzwise covers, from Kamasi's black dashiki to Shabaka's flat cap, abstract shirt and enigmatic gold chain, have meanwhile shown jazz's return to an Afro-futurist source also mined by the epochal box-office hit Black Panther. Style counts. And for the first time in decades, jazz has it.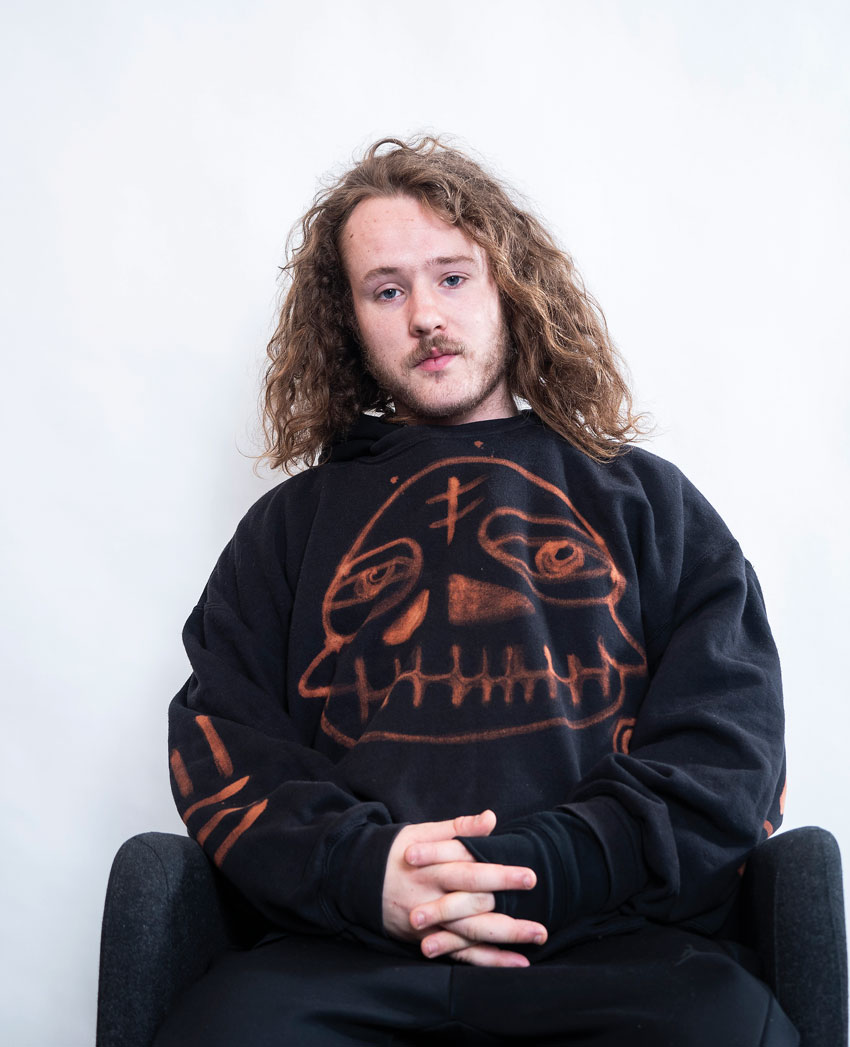 Joe Armon-Jones (photo: Tim Dickeson)
"Yeah, it matters," says Boyd. "I think that was the problem. The music never looked as cool or good as it sounded. That's the big shift that a lot of us were conscious of – and how we attacked that status quo. And it took a while, and it was a real battle. People thought you were mad at times! I loved seeing Charlie Parker in a suit. For people in the 1950s that was the fashion, that was cool. I'm not saying it has to be a hoodie now. But let's say it is. Isn't that more current, and honest?" "It's just about playing and dressing and presenting ourselves in ways that we feel comfortable with," Cross adds, "so that we can attract an audience that we feel comfortable with."
Similarly, the 1960s drive to take jazz out of clubs and into concert halls, and the often repeated, aspirational axiom that jazz is "black classical music", is now being reversed in London. "I can understand then why that made sense," Boyd says. "But to me, looking back, that's an inferiority complex. I don't mean to seem arrogant. But I don't need that validation. What is a concert hall? There's better acoustics in [Brixton club] Phonox," he laughs. "I'd rather play with their system with the music I'm playing."
This new jazz culture comes with other philosophies. "Honesty, man," says Boyd. "If you look at the bigger picture of the world, the time we're in is about breaking down status quos, and making things a lot more open. We never sit around and talk about that. But everyone understands. It's like, I don't want to hear Theon play Monk. I love Monk, but I'd rather hear Monk play Monk. I want to hear Theon, and I want Nérija to be purely Nérija. Everything has that intrinsic honesty when they're presenting their music, whatever it is."
This mutually supportive environment and its unified front is all very different from bebop's foundation myth at Minton's, with its intention of excluding inferior musicians. It's a mantra of togetherness symbolised by the sleeve of Armon-Jones' new album, Starting Today, which portrays his peers' records scattered around his flat. "We also want audiences to go away feeling that they've had a good time," Cross concludes. "I feel that about everyone's music here. It's important that they can come almost as a stress-reliever. We're trying to heal people."
This article originally appeared in the July issue of Jazzwise.


Edited by snobb - 06 Aug 2019 at 7:19am