By Philip Freeman
  I  
Jun. 6, 2023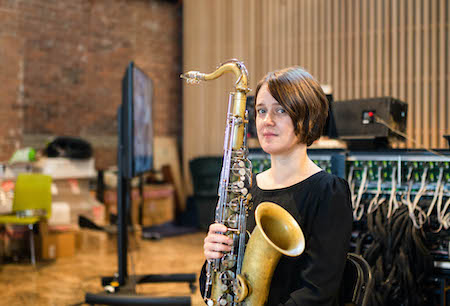 The lines between jazz and classical used to be more stark, but they were never seamless — even before composer and theorist Gunther Schuller coined the term "Third Stream" in a 1957 lecture at Brandeis University, attempting to will into existence a new style that combined classical orchestration with jazz improvisation.
In the 21st century, musicians move freely between realms, playing in orchestras or string quartets sometimes and in jazz ensembles other times, and improvisation (or "indeterminacy," to use John Cage's preferred term) is embraced in almost all musical genres. Ensembles like Alarm Will Sound, Brooklyn Rider, Wet Ink and Yarn/Wire make music that, heard without preconceptions, could be avant-garde jazz or modern composition or some mix of the two.
Saxophonist Ingrid Laubrock, born in Cologne, Germany, but a resident of New York for 15 years, lives in the blurry zones between genres. In addition to her own wide-ranging catalog as a leader, she's played with a broad spectrum of others, including Anthony Braxton, Nate Wooley, the British post-jazz group Polar Bear and even legendary U.K. punks Crass. She looks for fluidity and openness from collaborators and from herself.
After arriving from London in 2008, Laubrock made her name with small groups like Paradoxical Frog, a collective trio with pianist Kris Davis and drummer Tyshawn Sorey, and Anti-House, a quintet featuring Davis, guitarist Mary Halvorson, bassist John Hébert and drummer Tom Rainey. Halvorson, Davis and Rainey (to whom she's married) would become crucial collaborators, each playing in the others' ensembles and developing a collective aesthetic of barbed melodies, sudden harmonic lurches and unpredictable, but still somehow cyclical, rhythms.
Then, in 2018, she released Contemporary Chaos Practices (Intakt), featuring two extended compositions for the EOS Chamber Orchestra and four soloists: Laubrock, Halvorson, Davis and trumpeter Nate Wooley. The ensemble featured nearly three dozen instrumentalists and eight vocalists, and required two conductors. That was followed by 2020's Dreamt Twice, Twice Dreamt (Intakt), a double disc on which the same five compositions were interpreted by EOS and by a six-member group including violin, accordion, keyboards, harp and electronics.
"I feel like it is good to have pretty specific notation in place for some things to get the full amount of color," Laubrock says of working with the orchestra. "If I'm writing for a large group of classically trained musicians, I really notate a lot, and the improvisations are guided by hand signals. … The challenge is kind of bridging it so it doesn't just sound like, here's a saxophonist playing over a classical orchestra, but to integrate that sound world more into my own sound and make it a little bit more seamless."
When assembling the musicians for these two albums, Laubrock worked with violinist Erica Dicker, "an amazing violinist, a principal violinist in this case, who lives between two worlds; she works on Anthony Braxton's projects." Once Laubrock had a list of players she wanted, they devised a questionnaire to determine their degree of flexibility: "We knew they were great contemporary classical musicians, but we also wanted to make sure they were open to improvisation and open to explorations of sound, because not all contemporary classical musicians are. … It's important to me that there is not this kind of feeling of hierarchy."
Laubrock's new album, The Last Quiet Place (Pyroclastic), is performed by a small group with Brandon Seabrook on electric guitar, Michael Formanek on bass, Rainey on drums, Mazz Swift on violin and Tomeka Reid on cello. The music unfolds slowly, like a room that constructs itself as you walk through the door. The strings (often including Formanek's bass) groan and sing, while Rainey's drums tap at everything, testing it for stability. Seabrook's guitar vacillates between Bill Frisell-ish calm and Nels Cline-like disruption. Laubrock's in the middle of it all, not so much leading as dictating the rules of the game and then letting everyone play.
The pieces were originally written for guitar, saxophone, bass and drums, "but I kind of arranged and stretched them and added long sections," she explains. The arrangements are stricter than they seem on first listen; she describes them as giving the band, "a different task on every piece, and I guess the collaboration in a sense is when they improvise parts, that is what they are contributing."
In the press materials for The Last Quiet Place, Laubrock talks about seeking calm when composing, but the music retains the complexity of her previous work and even possesses, at times, a nerve-jangling quality. "I don't think I'm actually trying to write calm music," she clarifies. "I'm just trying to write from a calm place, where I allow the music to come to me, similarly to when I'm improvising. It's like I'm in the zone, to talk about it in a sports term. It's quite comparable, where you're strangely still inside, and you have this focus that is coming from a deep and calm place. It doesn't mean that the music can't be dense and multilayered." DB
from https://downbeat.com