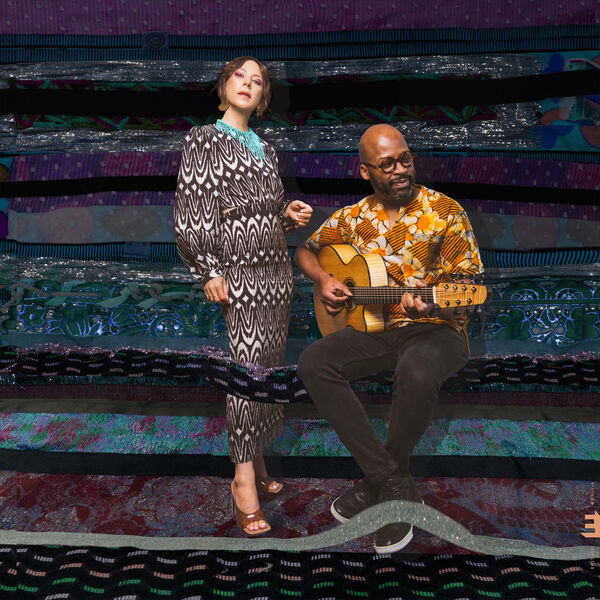 From two noble descendants of New York's recent jazz circuit comes Lean In, a collaborative effort which, like so many records of late, came to fruition following online conversations shared between its two co-leaders, American singer Gretchen Parlato and Beninois guitarist Lionel Loueke, over the course of the pandemic. For Parlato and Loueke, this is an album built on the back of an abiding friendship. These two musicians go back a long way – over twenty years, to be precise – to when their respective auditions for the Thelonious Monk Institute of Jazz fell on the same day. It is this long-lasting relationship that immediately comes to light across the captivating blend of sounds that feature throughout the record.
Speaking of the inviting sound-world this album has to offer, it is something of an achievement for artists to command expectations based on what they have come to be known for and yet still surpass them. Loueke's musical capabilities, which he has refined over a tenure with Herbie Hancock, combined with Parlato's keen sensibility that re-emerged on 2021's Flor come together for a passionate alliance of dedicated ambition. The result falls not far outside what listeners can predict from this pair of great artists, but still leaves room for surprises. It is leisurely, but not lacking.

Intricate detailing embellishes rather than saturates the set, which largely depends on Loueke's reliable West African-style guitar riffs and arpeggios. What sets the guitarist apart is his ability to seamlessly integrate his heritage into his playing, incorporating elements that often mimic the sounds of traditional African instruments, such as the kora or balafon, creating a unique and mesmerising sonic tapestry. Parlato's communicative style of singing often incorporates an expert level of control of her dynamics, allowing her to convey a wide range of emotions with subtlety and nuance. Her charm comprises not only the intimacy conveyed through her presence but her connection to the material she performs as well. The vocalist is provided a chance to showcase her appreciation for the different musics that inspired her growing up, as she flexes her multilingual abilities on a record that features songs in English, Portuguese and Fon (a national language spoken by Benin's largest ethnic group).
One appetising aspect of Lean In's magnetism is the uplifting harmony of different genres brought to the table by each musician as they trade vocal duties. Take the softly considerate re-working of Klymaxx's 'I Miss You', an R&B classic that, in this rendering, feels entirely at home in its new milieu. Though not appearing on the face of the album, Parlato's husband and vital supporting member) Mark Guiliana plays a key role in keeping the fire of the rhythm section burning. Along with bassist Burniss Travis, himself conscripted by Loueke, the busier tunes such as 'If I Knew' as well as the series of dizzying world-infused interludes that function as intervallic tone poems galvanise the album's already bustling momentum. The atmospheric 'Astronauta', a languorous starbound samba popularised by Elis Regina, reveals the duo's consonance by way of Parlato's fluent phrasing, matched with Loueke's wordless lilts. Whilst a number of influential figures look to terraforming other planets in our solar system, this track proves the deepest mysteries and fruitful gains are to be found here in our daily lives.
Like all great friendships, there is a certain vulnerability reflected in this music. In addition, it's not difficult either to detect the veritable signs of wisdom that arise from the longevity of such emotional connections. This is an album of acquaintanceship, breezy and light-hearted, but not without its emotional sincerity and depth. In fact, the warmth and reciprocity of this shared musical creation is a testament to the strong bonds made between friends and the familiarity of those who comfort us.