Einsturzende Neubauten at Mojave Auszug, near Mecca, CA 1984 - Photo by Fredrik Nilsen
Desolation Center is the untold story of a series of early '80s guerrilla music and art performance happenings in Southern California that paved the way for Burning Man, Lollapalooza, and Coachella... Collective experiences that have become key elements of popular culture in the 21st century.


This documentary features interviews and rare performance footage of Sonic Youth, Minutemen, Meat Puppets, Swans, Redd Kross, Einstürzende Neubauten, Survival Research Laboratories, Savage Republic and more, capturing a time when pushing the boundaries of music, art, and performance felt almost like an unspoken obligation.
Reel / Trailer
Audience members in Box Canyon, Mojave Auszug, near Mecca, CA 1984 - Photo by Scot Allen
Director Stuart Swezey says, "Taking the music that I found so inspiring and placing it into the wide-open spaces of the California desert or on a boat in the industrial wasteland of LA Harbor became a personal challenge for me. The story of the Desolation Center events is told in the film by eyewitnesses who were participants whether as musicians, artists, organizers or concert-goers."

The Desolation Center project has been a labor of love from the start. The film's producers have now made it to the starting gate of getting the documentary out into the world. They chose to work with the independent film crowdfunding platform Seed & Spark to raise money to bring the Desolation Center film to the next phase of release.
Starting with the world premiere at CPH:DOX Festival in Copenhagen this past March, the response to the first festival screenings has been overwhelmingly positive.
In advance of the DOXA festival, the Vancouver weekly
Georgia Straight
recently said the following...
The greatest compliment one might pay Desolation Center is this: it somehow manages, against almost impossible odds, to capture the power of events that revolutionized pop music as we knew it. To watch director Stuart Swezey's essential documentary is to marvel at a dust-grimed Sonic Youth ripping through "Death Valley '69" in the California desert long before anyone had heard of Coachella. It's to sit there slack-jawed at the insanity of the Meat Puppets, caught losing their sh*t on a boat cruise a decade before Kurt Cobain tried to make them a household name with MTV Unplugged in New York. And it's to understand not only the revolutionary power of German noise pioneers Einstürzende Neubauten as they turn sheet metal into sonic art, but also the seeds of multimedia blowouts like Burning Man.
The next Desolation Center screening is scheduled for June 8th at Sheffield Doc/Fest in Sheffield, England. Afterwards, Thurston Moore will do a Q&A and perform.
Bus and audience members, Mojave Auszug, near Mecca, CA 1984 - Photo by Scot Allen
Desolation Center is at its heart a music documentary and in order to be seen outside of a few film festivals, the producers need funds to pay for music rights and for the professional music supervision as well as clip fees, unforeseen post-production costs, legal and insurance fees. Contributions will also help Desolation Center to be able to exist online and share the wealth of interviews and archival material that we were not able to include in the current cut and create a worldwide community based around the ideas that are explored in the film.

The strikingly designed tickets letterpress-printed by Bruce Licher of Savage Republic were one of the really cool trademarks of the original Desolation C

enter shows...
The producers are extremely excited to be working with the renowned graphic designer on an original series of limited edition Desolation Center cards, replica tickets, CD and LP packages, t-shirts, posters, and mugs for the Seed & Spark campaign.
Desolation Center is more than just the story of a series of wild and unorthodox happenings. The film is true to the spirit of freedom and possibility that Punk and its call for creative deconstruction embodies. Desolation Center is the true story of how the risky, and at times even reckless, actions of a few outsiders can unintentionally lead to seismic cultural shifts. Our hope is that it will also be a catalyst to future generations to question assumptions and carve out new possibilities even if only for a fleeting moment in time.
Sonic Youth setting up gear, Gila Monster Jamboree near Lucerne Valley, CA 1985 - Photo by Bob Durkee
Click HERE for the complete PRESS KIT
QUOTES:

VICE:

"The Desolation Center shows managed to avoid the pivotal moment when festivals for the
counterculture shift and become mainstream, inevitably altering their feel and purpose. In some ways,
the magic of the shows is that they never had a chance to become diluted by money or time: they were
raw, they were real, and, most importantly, they were completely original."
"We played in the middle of the Mojave Desert at a festival called Gila Monster Jamboree ... It was a
magical night, one of my favorite shows ever. "
LA Weekly:
"Like some bizarre ritual at the end of the world."
HYPERALLERGIC:

"Between the utopian music festivals of the late 1960s and the corporate behemoths they've become, a
series of site-specific concerts in Southern California once offered an alternative, wildly independent
vision of what these types of events could be."
KCET:
"Continuing the DIY spirit of early California punk, Swezey set out to keep an emerging genre of
alternative music out of nightclubs and inside mysterious warehouses and rehearsal places. This was in
accordance with the principles of what would become known as Desolation Center, a consortium of
post-punk aficionados who resisted the concept of money-making in favor of truly egalitarian
experimental live shows with no guest lists, no paid advertising, and no solicitation of the press."
Full page story in UNCUT: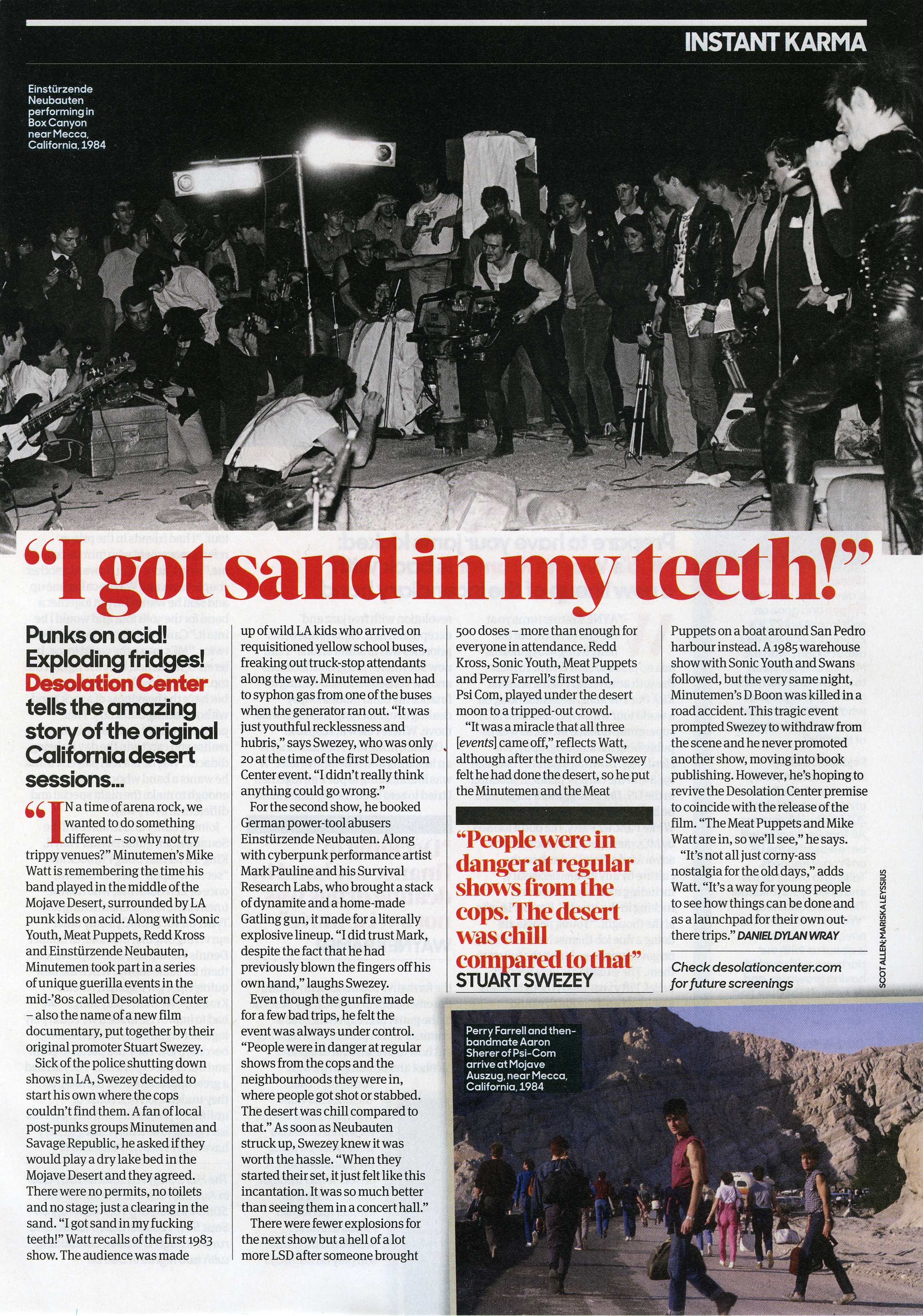 Savage Republic at Mojave Exodus near Lucerne Valley, CA 1983 - Photo by Scot Allen